Using the qibb Node Catalog plugin
The qibb Node Catalog provides a list of additional nodes controlled by qibb as part of the sidebar. In addition to other function nodes, frequently used third-party integration nodes can also be found here. These nodes can be installed and updated directly from the qibb Node Catalog.
How to open the qibb Node Catalog
Open a flow

Expand the sidebar if it is collapsed and click the down arrow icon in the menu

Select Node Catalog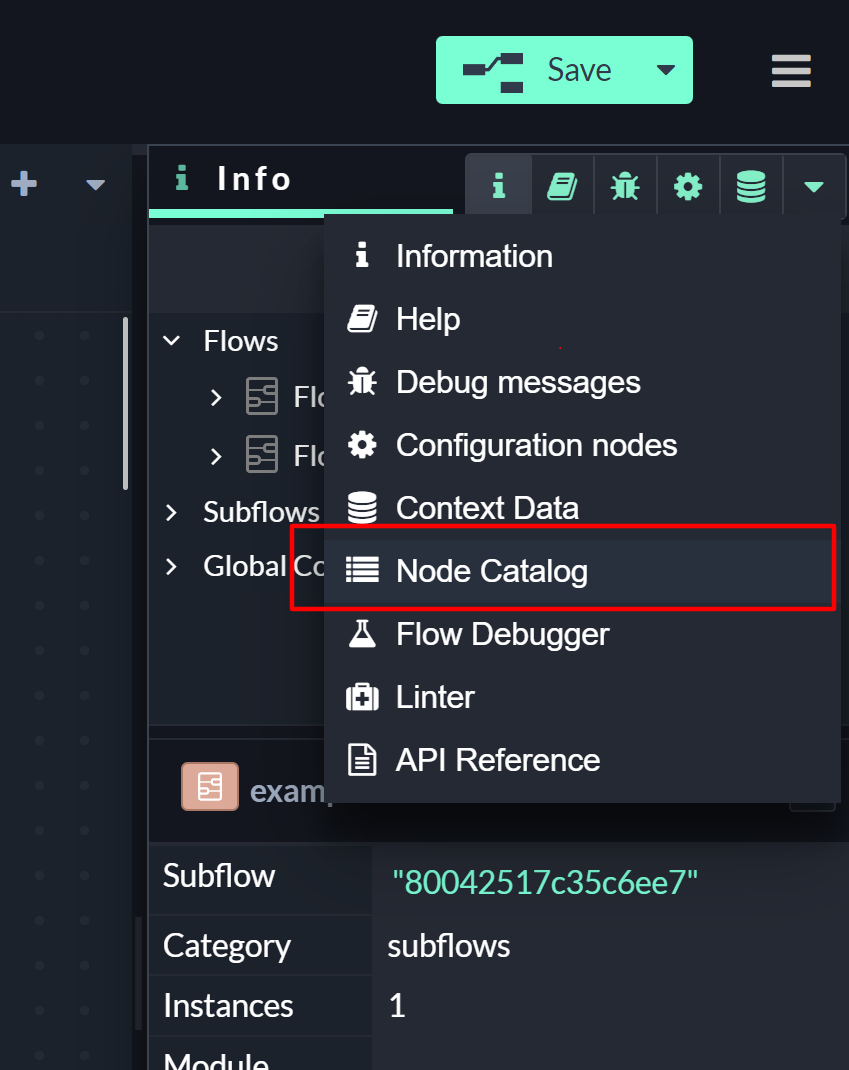 Node Panels
A node panel contains the essential information for a first overview of the offered functionality. In addition to the icon and the name, the latest available version number and a short description of the respective node are also displayed. This information is displayed when you move the mouse pointer over the panel. More detailed documentation is provided via the View documentation link. This link redirects to a page with the node's documentation in the qibb portal.
Searching
A search box simplifies the search for specific functionalities. The search takes into account all the properties of the nodes, including the description and version number.
Installing a Node
Nodes that are not yet installed in the flow have a plus symbol on the right side. With a click on the plus symbol, an installation process is triggered. After successful completion of the installation, the installed nodes can be found on the left side of the flow application.

Updating a Node
If there are newer versions of an already installed node, this is indicated by an update icon. By clicking on the "Update" button, an update process is triggered. After a successful update, the flow should be restarted to use the latest update.

Restarting a flow: A flow can be restarted by clicking on the burger menu icon in the upper right corner and then clicking "Restart".
Refreshing
As soon as the flow is loaded, all currently available node information in the qibb Node Catalog is queried. However, if the flow has been open for a longer period of time, the current status should be queried again. This can be done via the Refresh button (to the right of the search bar). This checks whether new nodes are available for installation or whether nodes that have already been installed require an update.
Next
Next, you might be interested in a few Best Practices that will provide useful guidance, such as Structuring a flow or Making API requests.