Introduction
Ateme Titan Live is a powerful, software-based compression solution designed for delivering high-quality SD, HD, and Ultra HD content over cable, DTH, and OTT networks. It can run on any host and is optimized for Linux, Virtual Machines, and Micro-Services. Ateme Titan Live uses the ATEME 5th Generation STREAM compression engine, delivering the highest video quality at the lowest possible bitrates with accelerated parallel processing. Whether you're delivering content to main screens or multiscreen applications, from small resolutions up to UHDp60, Ateme Titan Live can meet your current and future requirements.
To learn more about TITAN Live's capabilities, check out the details and supported operations on Ateme Titan Live | qibb Catalog.
Getting Started with Ateme Titan Live Integration
Before you begin using Ateme Titan Live integration, make sure you have the necessary permissions for the operations you want to perform.
Follow these steps to get started:
Obtain your Username, Password, and Host address for authentication.

Open the qibb Workflow Editor and navigate to the right sidebar to open the Node Catalog.

Install the Ateme Titan Live node by clicking on the "+" button.

Drag and drop both the Ateme Titan Live and Ateme nodes from the left sidebar onto your flow and connect them.

Enter your credentials into the Username and Password fields of the Titan Live Auth node, and your Host address into any of the Titan Live nodes.

You're now ready to start using the Ateme Titan Live integration.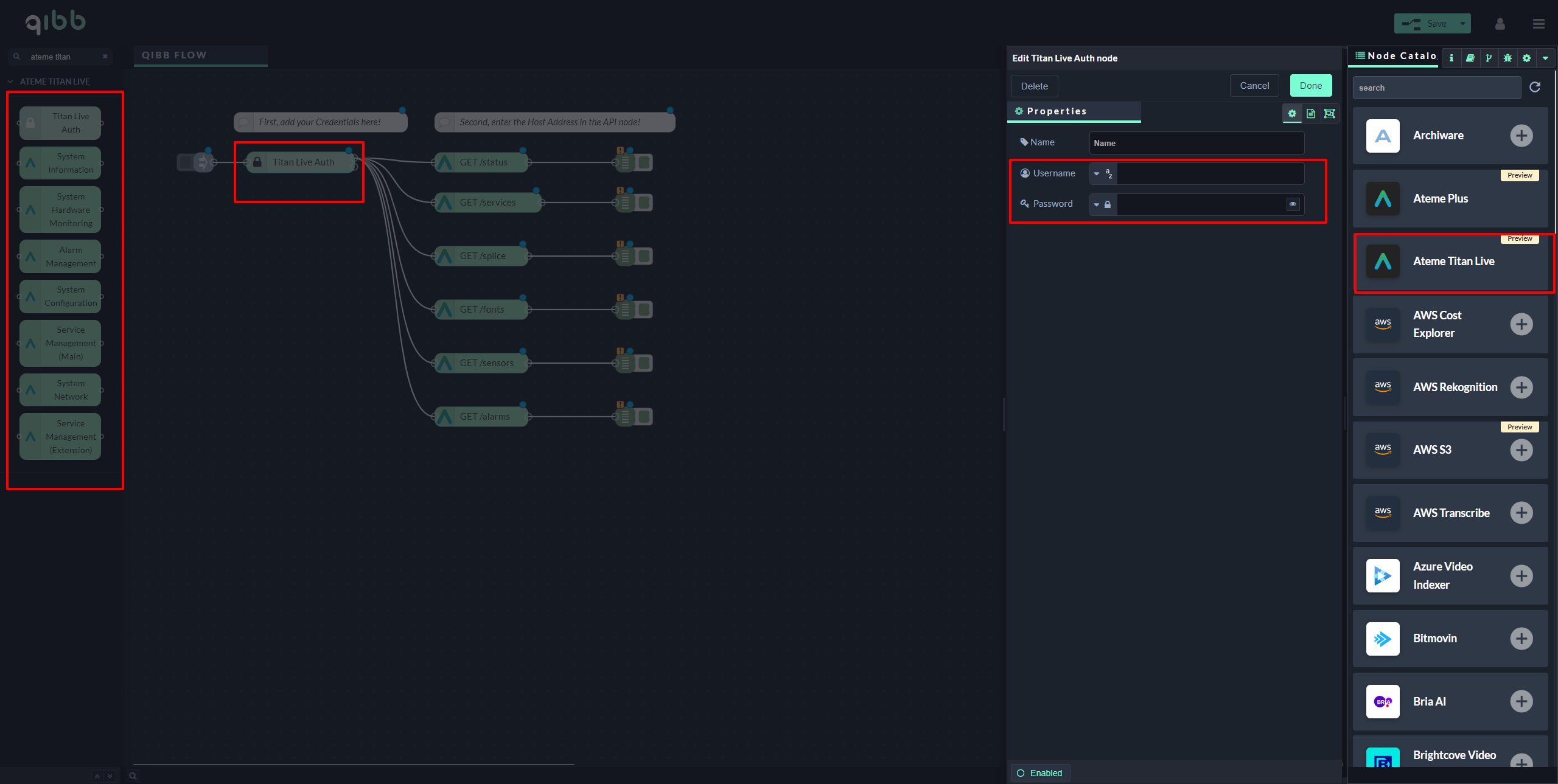 Importing flow examples of a node
Once you've successfully installed a node from the qibb catalog, you can easily import example flows that showcase how the nodes can be used. These example flows are directly accessible within the Flow Editor and are designed to guide users with helpful hints, including how to configure mandatory parameters and credentials.
Here's how to import examples:
In the top right corner of the Flow Editor, click on the menu icon.

Select Import to open the Import Dialog.

Click on the Examples tab.

Choose an example from the list.

Confirm your selection by clicking on the Import button.
That's all there is to it! With these simple steps, you can start with examples which make basic API calls.
For further exploration of what's possible, you can find more complex examples in the Flow Catalog.
y5l9tfp