Introduction
Egnyte is a comprehensive cloud-based content collaboration and data management platform designed to enhance business productivity and security. With a focus on providing seamless access to files from anywhere, the service offers a powerful combination of file sharing, storage, and advanced security features. Egnyte enables teams to collaborate efficiently by centralizing documents, enabling real-time co-authoring, and facilitating secure file sharing both internally and externally. The platform prioritizes data security through features such as robust encryption, granular access controls, and compliance with industry regulations.
Egnyte serves as a versatile solution suitable for businesses of all sizes, aiming to streamline workflows, bolster data protection, and foster effective teamwork.
With the Egnyte Node, users can make calls to the File System and Links APIs for Internal Applications.
You can find more details and the supported operations on Egnyte | qibb Catalog.
How to get started with Egnyte integration
Before you get started using Egnyte integration please make sure that you have the needed permission for the operations. Here you can find the Egnyte API Documentation.
You will need an Egnyte developer account, an application set up with that account, and an Egnyte domain to access the credentials needed for authentication. Here you can set up your developer account and create a new application.
Currently the Egnyte node can be used only for Internal Applications and the credentials must be associated with the Egnyte Connect API.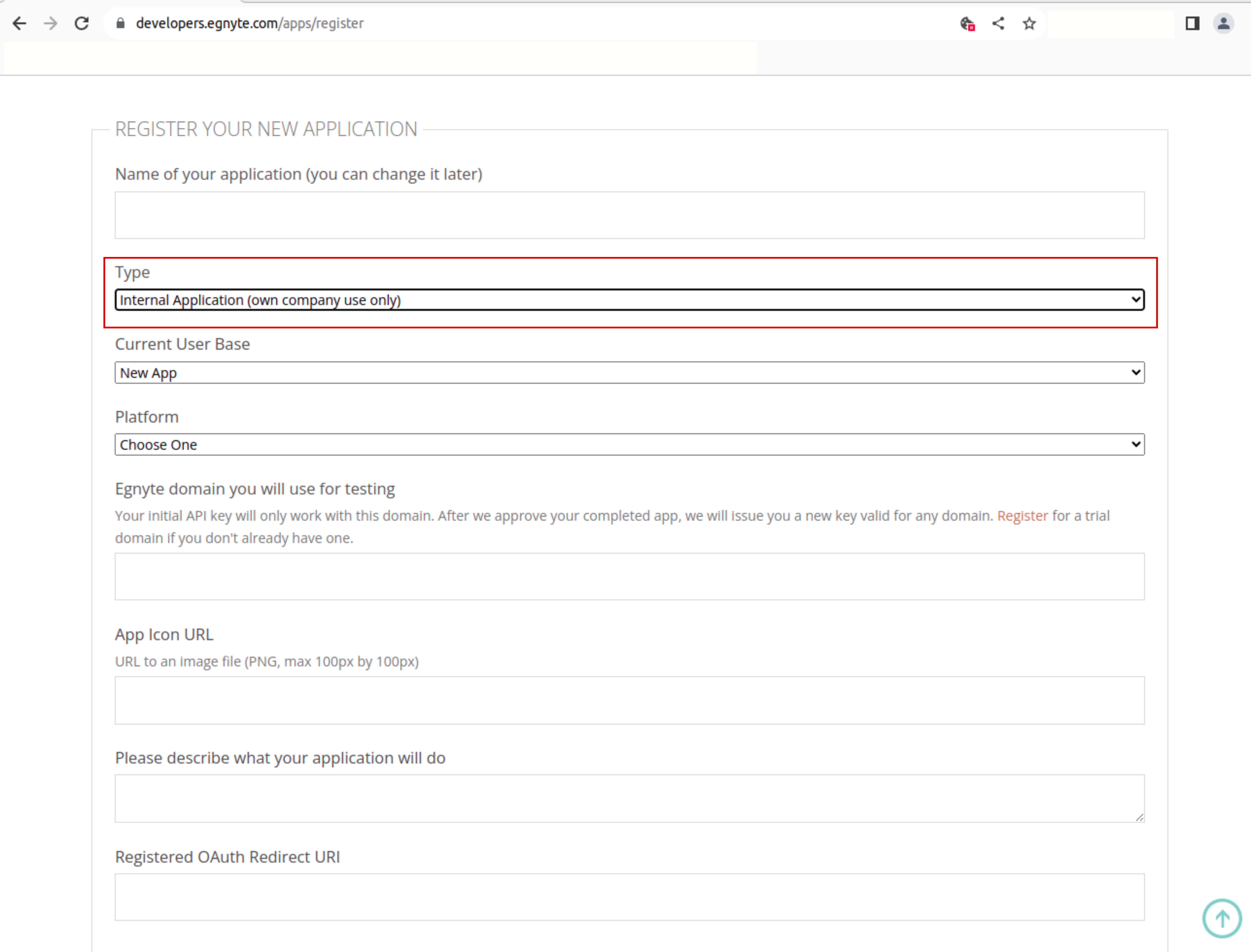 If you don't yet have an Egnyte domain, you can follow the instructions here to register for a trial domain.

Once you have your domain, account and application set up, get your Client ID (Key) and Client Secret (Secret) from your Egnyte account.

Now that you have all your credentials to hand, go to the qibb Workflow Editor, open the Node Catalog in the right sidebar, and install the Egnyte nodes by clicking on the + button.

Drag the Egnyte nodes and any other nodes you need from the left sidebar and place them in your flow.
Open the Egnyte Auth Node, add your credentials and you are ready to start using the integration!
The Egnyte Auth Node should be used to make a single call to fetch the token you will use for your other API calls. Triggering this node too often will result in your account being blocked! The sample flows included with your node installation provide an example for how you might set this up.
Importing flow examples of a node
Once you've successfully installed a node from the qibb catalog, you can easily import example flows that showcase how the nodes can be used. These example flows are directly accessible within the Flow Editor and are designed to guide users with helpful hints, including how to configure mandatory parameters and credentials.
Here's how to import examples:
In the top right corner of the Flow Editor, click on the menu icon.

Select Import to open the Import Dialog.

Click on the Examples tab.

Choose an example from the list.

Confirm your selection by clicking on the Import button.
By following these steps, you are now ready to make basic API calls using the provided examples. For further exploration of what's possible, you can find more complex examples in the Flow Catalog.