Introduction
x.news is a powerful tool for news and information monitoring. It allows you to ingest files from social media feeds into your production workflow and integrate with publishing platforms and internal documents, including email. With extensive, customizable features, x.news provides multi-platform tracking, enhanced relevance, credibility, mobility, and collaboration.
You can find more details and the supported operation on x.news | qibb Catalog.
How to get started with x.news integration
Before you start using x.news integration, please make sure that you have the necessary permissions for the operations.
Register for an account: First, you'll need to register for an account on the x.news website. Once you have an account, you can access your API key and other necessary credentials for authentication.

Explore the documentation: Before you begin using the x.news integration, it's recommended that you take some time to explore the documentation to familiarize yourself with the different features and capabilities of the tool.

Install the x.news node: To use the x.news integration in qibb Workflow Editor, you'll need to install the x.news node from the Node Catalog. To do this, open the Node Catalog in the right sidebar, search for x.news, and click the "+" button to install the node.

Set up authentication: Once you have the x.news node installed, you'll need to set up authentication by configuring the x.news Auth node. Drag and drop the x.news Auth node from the left sidebar to your workflow, and enter your API key, Base URL, Username, and Password into the relevant fields.

Create your workflow: Now that you have authentication set up, you can start creating your workflow. Drag and drop the x.news node from the left sidebar to your workflow, and connect it to the x.news Auth node. From there, you can configure the x.news node to ingest files from social media feeds, filter content based on keywords or topics, and integrate with other tools in your workflow.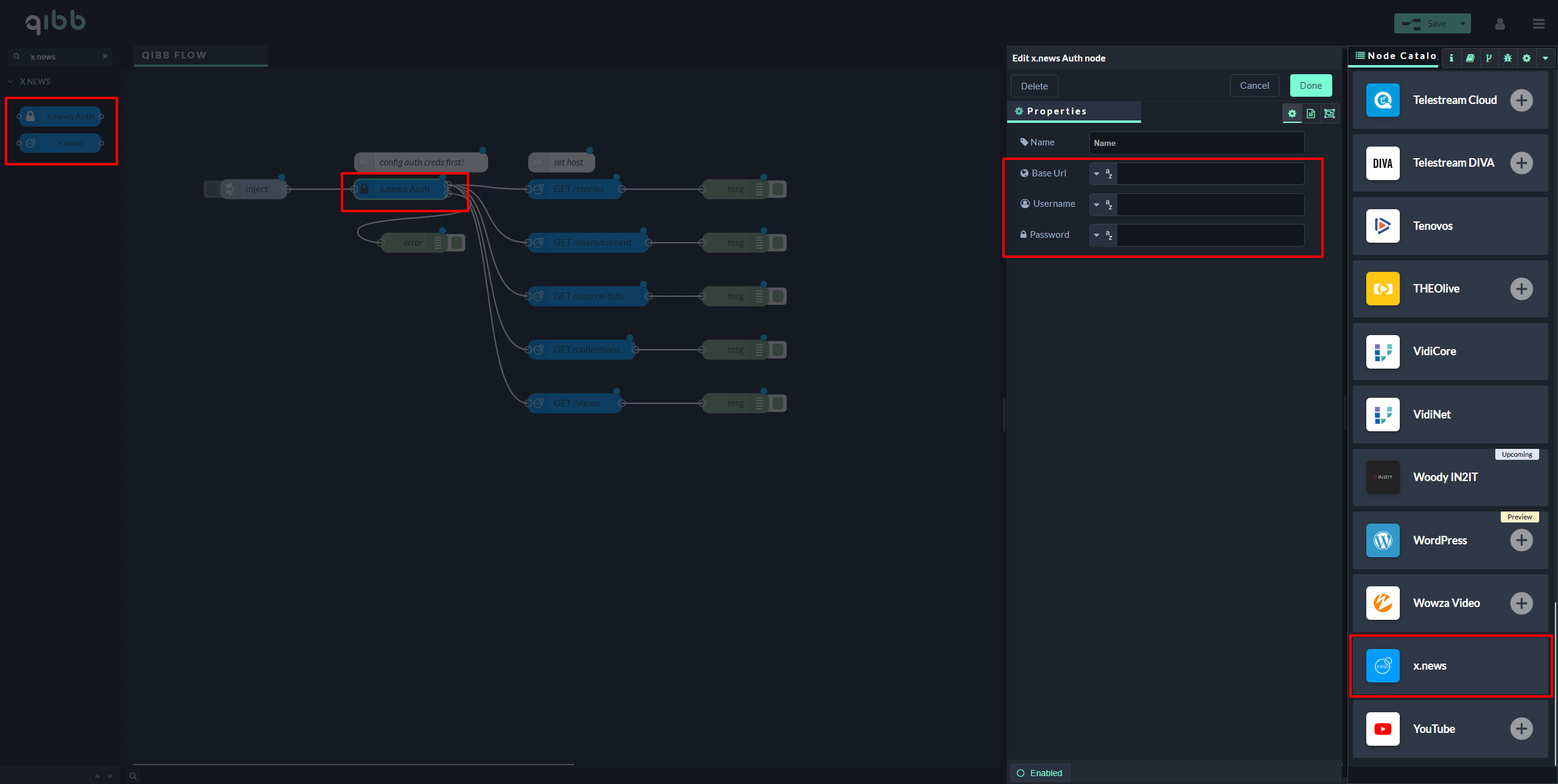 For example, let's say you're a news organization that wants to monitor social media channels for breaking news related to a particular topic. You could use the x.news integration to ingest tweets and other social media posts related to that topic, and automatically filter out irrelevant content using the keyword filtering feature. You could then integrate the filtered content into your news production workflow, using tools like video editing software or content management systems.
Importing flow examples of a node
Once you've successfully installed a node from the qibb catalog, you can easily import example flows that showcase how the nodes can be used. These example flows are directly accessible within the Flow Editor and are designed to guide users with helpful hints, including how to configure mandatory parameters and credentials.
Here's how to import examples:
In the top right corner of the Flow Editor, click on the menu icon.

Select Import to open the Import Dialog.

Click on the Examples tab.

Choose an example from the list.

Confirm your selection by clicking on the Import button.
By following these steps, you are now ready to make basic API calls using the provided examples. For further exploration of what's possible, you can find more complex examples in the Flow Catalog.